A legend returns—The Rumble Fish + releases December 21st!
Featuring online multiplayer, the ultimate version of this classic fighting game is now available for pre-order!
Street Fighter and Fatal Fury developer's sequel to cult classic 2D fighter is available to buy on digital platforms today. An accompanying physical release in Japan is set to be followed in the US and Europe in Q2 2023.
Tokyo, Japan – 8th December 2022:
3goo and Dimps Corporation are delighted to announce that their cult classic 2D brawler The Rumble Fish 2 is available today on PlayStation Store, Microsoft Store, Nintendo eShop and Steam.
See the brand new Launch Trailer Here!
The arcade classic sees its home console debut today, with a physical edition also becoming available thanks to Limited Run Games. This physical edition will launch in the US and European markets in Q2 2023, and are available for pre-order via Amazon or Limited Run right now (Links below). Alternatively, players can get their hands on the game today via the major digital storefronts, via https://www.therumblefish2.com/en/
Developers, Dimps Corporation, need no introduction, as some of the creative forces behind such genre luminaries as Street Fighter and Fatal Fury. Now, their arcade classic comes to home consoles and PC in a faithful port which will delight hardcore fighting fan
The Rumble Fish 2 preserves the arcade original's 5-button, 2-gauge battle system, allowing seasoned arcade players to enact the classic advanced tactical play the game is known for. On top of that the game includes several brand new systems, with the modern fighter player in mind:
○ 16:9/60 FPS wide screen
○ Online mode with Rollback Net code
○ Various game modes: Arcade, Training, Time Attack, Survival, VS
○ Gallery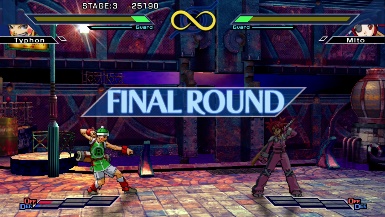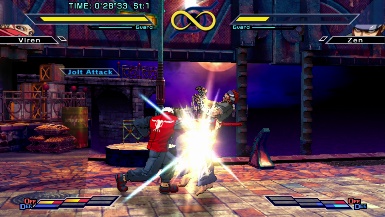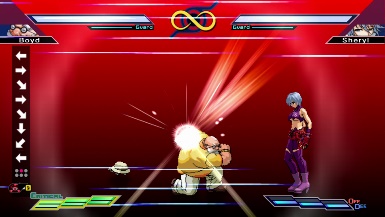 Last but not least, The Rumble Fish 2 offers a stunning visual experience, thanks to graphics powered by SMA - the "Smooth Model Animation" system, which animates 2D sprites on a per-limb basis. See it in action in the gameplay trailer.
More about The Rumble Fish 2 Collector's Edition coming in Q2 2023 in North America and Europe
The Collector's Edition of The Rumble Fish 2 includes a physical copy of The Rumble Fish 2 game with download codes for 3 DLC characters as well as the original The Rumble Fish 1 game; Collector's Edition Box; Soundtrack; Art Book; Strategy Guide and Command List.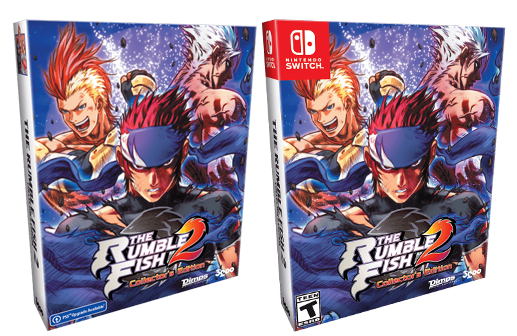 The Collector's Edition will include:
●The Rumble Fish Original Arcade Edition
●The Rumble Fish Original Arcade Version of the game -
A faithful porting of the very first Atomiswave Version of The Rumble Fish series, which you can only get in the Collector's Edition.
●Artbook -
A precious mockup provided by Dimps to show the behind-the-scenes of The Rumble Fish Original Arcade Introduction of all characters (profiles, backbone images, endings, original designs) plus an exclusive interview from designer YukinariZ.
●Special Soundtrack –
36 tracks from The Rumble Fish Original Arcade Edition including all stage BGMs and voices.

About The Rumble Fish 2
Developed for the Atomiswave arcade platform and debuting in 2005, The Rumble Fish 2 delighted players with its flashy, technical gameplay governed by five buttons and two super move gauges and stood out with a unique, colorful cast of 16 characters punctuated by the game's innovative "Smooth Model Animation" system, allowing for 2D sprite animation on a per-limb basis. Exclusive to arcades until now, this new release marks the first time The Rumble Fish 2 will ever be officially available on consoles and PC.
The Rumble Fish 2 is now available digitally worldwide for PlayStation®5, PlayStation®4, Nintendo Switch™, Xbox Series X / S, Xbox One, and PC via Steam® alongside the retail Standard and Collector's Edition in Japan. Collector's Edition for the US and Europe will be released in Q2, 2023.
and Physical Standard Edition on March 28th, 2023.
More details to purchase the digital version or pre-order the Collector's Edition / Physical Standard Edition on THE RUMBLE FISH 2 website: https://www.therumblefish2.com/en/

- ENDS -
About Dimps
Founded in March 2000. Based on their Digital Multiple Platforms Strategy, they've produced numerous global hit games for a wide array of hardware and platforms, from console and arcade to PC and smart phones. Find their development accomplishments on their website.
https://www.dimps.co.jp/en-product/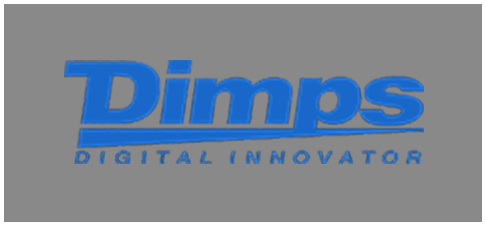 About 3goo
Founded in 2009. A Japanese publisher of consoles games with a focus on western titles. They've released a slew of games including Dead by Daylight™, Override: Mech City Brawl, Gear.Club Unlimited 2, WRC 10 FIA World Rally Championship, Aliens: Fireteam Elite, and Steelrising.
©3goo K.K. all rights reserved.